– Note: please note that the below information may be subject to change. Participants will receive final details by email in the week before the race – 
*2018 Information*
Your Race Entry Details
Accuracy: Please ensure to double-check the information at the bottom of the Active confirmation email for accuracy as these are the details which will determine your race class. Those who have failed to advise us of any changes will be eliminated from the prize categories.
Complete: If you have not yet completed your entry contact the office at your earliest convenience. Incomplete entries will not be allowed to race.
Changes: If you need to change anything to your entry, please let us know asap. The registration system does not allow participants to make changes themselves so all changes have to be emailed through to admin(@)oceantocity.com. Be particularly aware of any changes that might alter your racing class (e.g. age, crew gender, boat types). All boat types will be verified before launch and late changes to crews, craft etc. must be recorded before the race.
Registration
Ocean & City Courses: Registration will first open on the Friday before the race from 16:00 – 20:00 at the RCYC in Crosshaven. Because of the early start on Saturday, we encourage anyone who can register and collect their race pack on Friday, to do so. On Saturday morning we will open Registration 09:00-13:00 at the RCYC. A mandatory Participant Safety Briefing will also be given at 12:45. Your race pack will contain: Course map & instructions, launch & recovery information, orange flag, regulations and general information.
Monkstown Course: Participants starting from Monkstown have to register at the Monkstown slip, between 13:15-14:30, on the Saturday of the race. A mandatory Participant Safety Briefing will also be given at 15:15. This means that it is no longer needed for Monkstown participants to travel to Crosshaven.
Please note that it is your responsibility to advise us of any changes in your entry. Those who have failed to advise us of any changes may be eliminated from the prize categories.
Boat & trailer storage before the race: 
Crosshaven – at the Royal Cork Yacht Club (RCYC): Open Friday until 21:00. Saturday open from 08:30.
Monkstown: please note that this is a public slip without secured boat storage. We advise participants to not leave their boats unattended.
NB: Tramore Valley Park is available Friday night for overnight parking 18:30 – 21:00 & reopens Saturday at 8am. All trailers are required to be parked at Kennedy Quay by recovery area by 11am Saturday morning. Secure parking is only available at Kennedy Quay on Saturday from 9am onwards.
Crew bus to Crosshaven departs at 11.30am close to Kennedy Quay. Tickets can be purchased in advance by emailing admin@oceantocity.com
Launch & Recovery
Launch: Crews are welcome to launch their boats at the big slip in front of the Dinghy Hut in the RCYC from Friday morning onwards. Note: There is no crane available at the start. The big slip facilitates enough space to launch from your trailer. Our Launch Coordinator will be present from 16:00-21:00 in case of any questions.
Trailers:

On Friday evening Tramore Valley Park is available for overnight parking 18:30 – 21:00 & reopens Saturday at 8am when you can move your trailer to Kennedy Quay. Secure parking is only available at Kennedy Quay on Saturday from 9am onwards. The trailer park will reopen Saturday evening for overnight parking from 18:30 – 21:00. 

Recovery: At the finish line our team of volunteers will be working hard to get every boat recovered as fast as possible. With over 200 boats to recover, we would ask for your patience as there is also a GAA match happening in the area and we expect traffic delays. Our volunteers will endeavour to get your boats recovered as quickly as possible. Boats will be recovered by the Doyle's Shipping crane. Kayaks will be recovered from the Port of Cork Marina and must be collected from North Custom House Quay (strictly pick up only).
Boat & trailer storage after the race:
Update 2018:  As the Cork City Marathon is taking place on Sunday 3 June we advise both cars and trailers to be left at Tramore Valley Park Saturday evening so you can leave Cork without traffic interference. There will be pedestrian access on Saturday evening and Sunday morning via Half Moon Lane. The trailer park will open from 09:00 – 12:30 on Sunday. Please see map below.
 Opening hours: Tramore Valley Park 
Friday between 18:30 and 21:00 
Saturday 08:00-10:30 and from 18:30 – 21:00
Sunday 09:00 – 12:30 
Email info@oceantocity.com in case of any difficulties. This email address will be monitored.
You will also receive the above information by email. Please note that there is no parking at the Port of Cork.
Directions and Maps: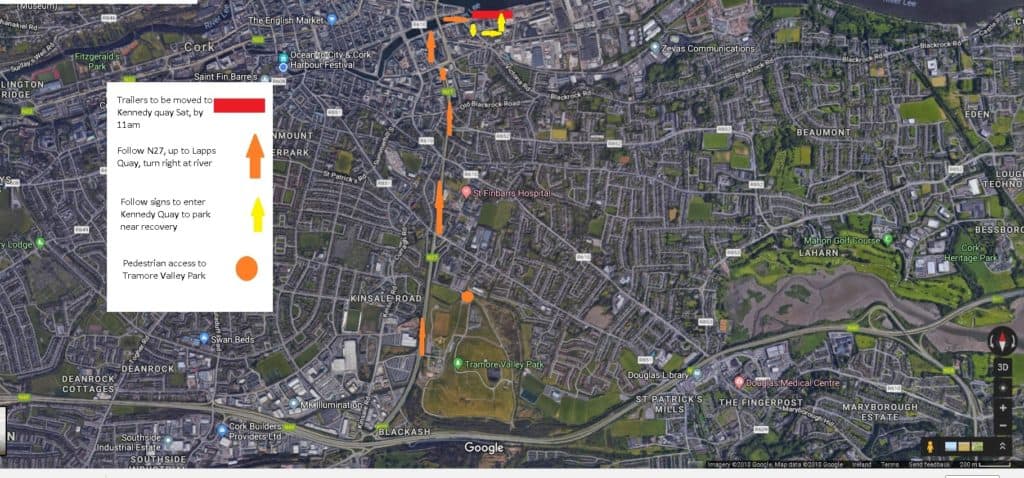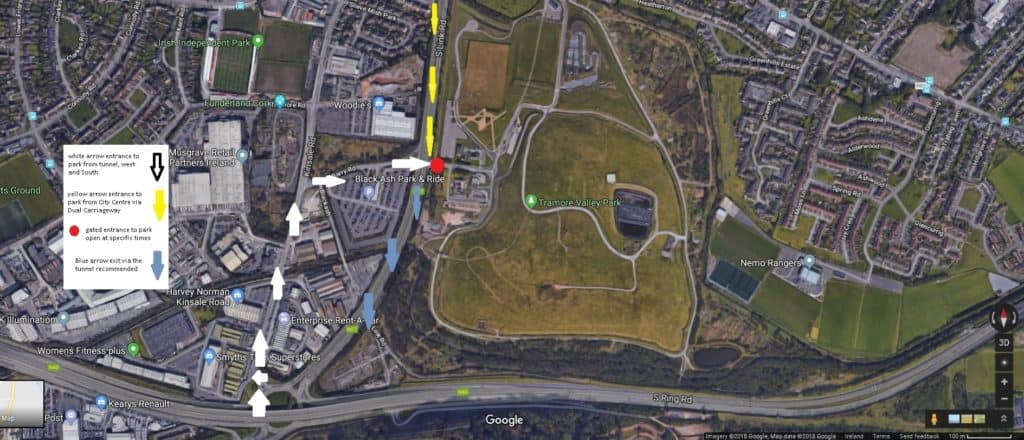 How to best time your arrival
If you are arriving on the Friday, we would recommend to:
Register at the RCYC in Crosshaven between 16:00-20:00
Offload your trailer and launch your boat between 16:00-20:00 so that you can time it perfectly and…
Park your trailer overnight in Tramore Valley Park between 18:30-21:00, the park re-opens at 08:00 Saturday and you can then move your trailer to Kennedy Quay before 11:00, you can then avail of the Crew Bus on Saturday morning (details below).
Crew Buses
To Crosshaven: Special Crew Buses will be organised to run from Cork's Albert Quay to the RCYC in Crosshaven on race day for those who have already left their boats at the start. This bus will leave at 11:30 and arrive in time for the mandatory Safety Briefing.
To Monkstown: This year we will also organise a minibus to the Monkstown Start, leaving from Albert Quay in Cork (outside the Idle Hour Pub, departing at 13:15
Tickets cost €5 pp and need to be purchased through the Active registration system (under additional purchases)
Mandatory Safety Briefing
There will be a mandatory and detailed safety and course briefing before the race start. A member of every crew (captain or cox) must attend this Safety Briefing and a sign-in sheet will record signatures. Crews who have not attended the Safety Briefing will not be permitted to launch or race.
Crosshaven (RCYC Dingy Hut): 2018 12:45
Monkstown (Sand Quay slip): 2018 15:15
2018 Race Start
The provisional first start time from Crosshaven is 14:30. Boats will start to arrive at the finish line around 16:30.
De-registration
Please assist us to ensure everyones safety by de-registering as soon as you have finished the race. De-registration is an important record for us that participants have finished and are safely ashore. The de-registration tent will be located near the top of the Port of Cork Pontoon. Paddlers are strictly required to return the special bibs as they are on loan from the ICU. Post-race showers are available for €5 p.p. at the Clayton Hotel.
Race Regulations
For full Race Regulations, please check here.
Prize Giving Ceremony
With over thirty different types of craft, there are many prize categories and a number of sub-races in the Ocean to City. (To be updated for 2018)
The Prize Giving Ceremony will take place after the race at the Clayton Hotel on Lapp's Quay.
Don't forget…
Prepare for up to 3 hours on the water, with appropriate protection for the elements. Conditions can change on the open water, and protection from both cold, wind and sun is recommended: sunscreen, rain gear, layered clothing, hat/cap, shades, etc.
Bring at least 2 litres of drinking water per person as well as food
Boat safety requirements include: 20ft towline, two 2l bailers, a clearly displayed race number, mobile phone and an orange flag (in race pack). Spot checks will take place on the day.
All crew members must wear a suitable PFD at all times while afloat/near the water or the crew will be disqualified (PFD belt packs not permitted)
It is the responsibility of each competing crew to ensure that their craft is seaworthy for the area and the forecast conditions. All boats must present themselves for inspection on race day.
Retiral/rescue: participants must report to a Shore Safety Point if they retire; if rescued, participants will not be permitted to continue racing.
Rules of racing: participants must go through gates; gates are integral to the course and to safety; overtaking boats must keep clear of boats they are passing; boats being overtaken must hold their course; participants must not wash hang. Participants that do not pass through gates will be automatically disqualified.
Detailed rules and regulations can be found here.
Participant Events
Meet the Crews! Friday 1 June, 19:00-21:00, Idle Hour Pub, Albert Quay, Cork: Gather with other crews and our host club Naomhóga Chorcaí to get the inside tips on the race, the courses and the harbour. A warm welcome to all our visiting participants!
Make it colourful: We've generally got over 200 boats taking part and encourage all participants to join the party! Hoist a flag in the stern of your boat, come along in fancy dress or paint your own crew battle-stripes on your face. The more colour the better!
Race Day Festivities – Saturday 2 June, from 15:30 onwards: Join the party in the harbour with street performances, balloon making, face painting, walkabout acts, food stalls, family cycles, music, craic and more! Details in will appear on corkharbourfestival.com
Prize Giving Ceremony: Time TBC at the Clayton Hotel, Lapp's Quay, Cork.
After-Party 21:00, at Idle Hour Pub, Goldbergs and The Sextant, Albert Quay: Unwind after the tough race and celebrate your achievements with a jig, a reel, and a cold drink in hand. Hosted by Naomhóga Chorcaí.
Cork Harbour Festival: Ocean to City is the flagship event of the Cork Harbour Festival, taking place 2 – 10 June 2018 with over 70 different maritime events. Details will appear on corkharbourfestival.com